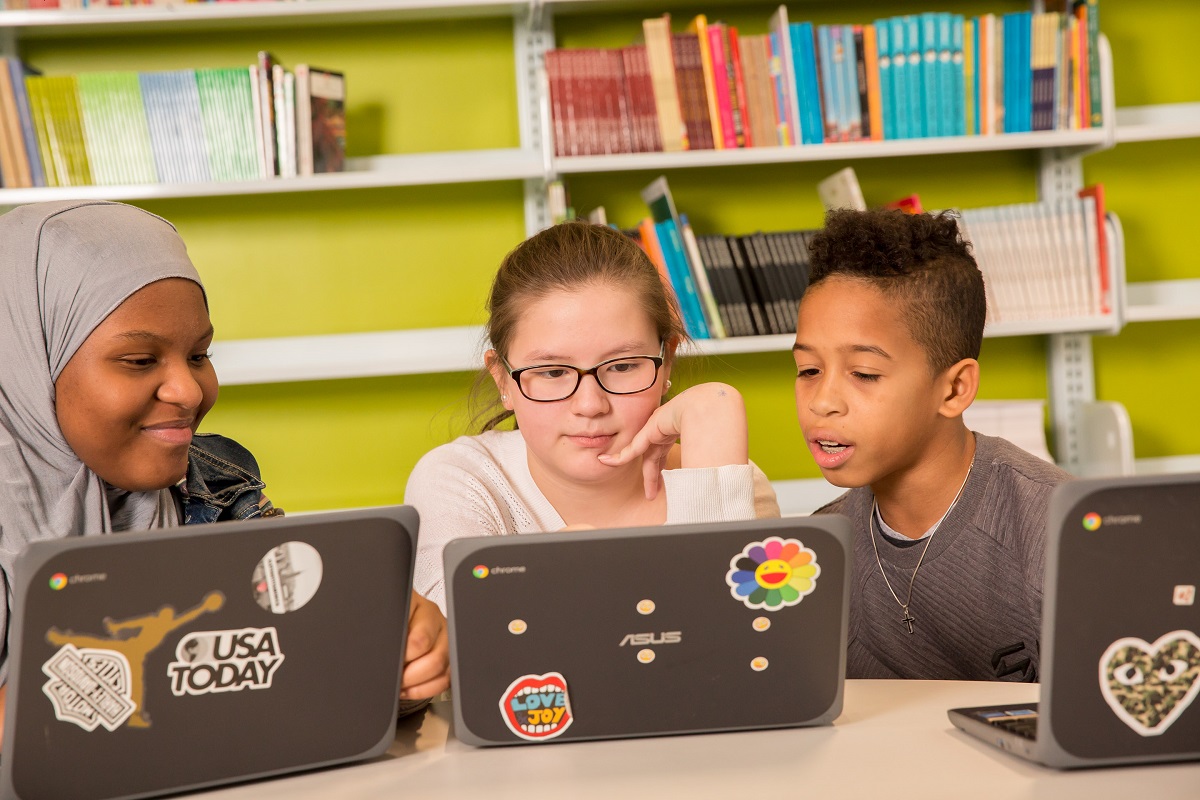 CommonLit
Making literacy education accessible for everyone together with CommonLit
Solvay is committed to helping the communities in which we operate tackle the societal challenges they face. One of the ways in which we can do this is by supporting educational initiatives, such as CommonLit. This nonprofit EdTech organization is dedicated to ensuring that all students, regardless of background and socioeconomic status, graduate with the reading, writing, communication and problem-solving skills they need to be successful in university and later life. 
CommonLit was founded in 2014 by Michelle Brown, a Latina educator who holds a B.A. in English and an M.A. in Education Policy from the Harvard Graduate School of Education. She developed the platform following her experience teaching seventh-grade English at a high-poverty school in rural Mississippi, through the Teach for America program. With no access to any teaching materials or even books, Michelle put together her own set of resources to help her teach the students. 
She went on to develop CommonLit, a free online reading program that helps students develop advanced reading and writing skills. Fully digital, highly effective and easy to use, CommonLit is the teaching tool Michelle wishes she had had access to as a teacher working at the school in Mississippi.
Related media
"AND is the Future" podcast with Michelle Brown is out!
Ilham Kadri sat down with Michelle Brown to discuss her journey from teacher to tech entrepreneur, and her creation of CommonLit, a free online program that closes the opportunity gap in education through literacy.
54,000+
teachers trained virtually
72%
of the schools served qualify for low-income support
Giving teachers and students access to the educational resources they need
In the 55 US zip codes in which Solvay operates, 2,564 educators and 63,842 students across 290 schools are already using CommonLit to support their learning. By working with CommonLit, Solvay is helping to close the learning gap between children from high and low-income families, while continuing to build connections between our operations, our employees and the communities we work in. 
Around 80% of low-income US students cannot read proficiently and Black, Native American and Hispanic students are disproportionately affected by the literacy education opportunity gap. Though open to all, CommonLit focuses specifically on reaching students in low-income schools, which are often the last to get access to cutting-edge technology and quality reading materials. 
CommonLit now serves more than 23 million teachers and students around the world. The platform's program is built on a foundation of over 2,800 high-quality free reading passages for grades 3-12, which are supported by aligned interim assessments, growth-oriented data and expert-led teacher development. It offers both a basic program, with resources that schools can use as and when they like, and an entirely free full-year English Language Arts curriculum for grades 6-10.
CommonLit Español was launched in 2018 and serves a growing audience in Latin America. The site now has half a million student accounts and serves 37,000 teachers with a full suite of resources in Spanish. It is supported by partnerships with the Ministries of Education in Colombia, Chile, Costa Rica, Ecuador and Peru.
"How well someone reads in eighth grade is one of the single best predictors of life outcomes. I started CommonLit because I believe that we can change the game for students in low-income schools by giving teachers the tools they need to teach reading and writing at a high level."
Michelle Brown, Founder and CEO of CommonLit
Making the partnership possible through the Epic Foundation
Solvay is proud to partner with CommonLit through the Epic Foundation. Epic is a global foundation that seeks to empower and protect children, youth and our planet. It bridges the gap between innovative organizations forging solutions to today's pressing challenges, and the individuals and businesses who desire to drive positive change. It is creating a global community of nonprofits and donors alike who come together to build a more just, equitable and sustainable world.
CommonLit had only been operating for four years when Epic selected the organization to join its portfolio. At this time Epic was intentionally looking to support organizations which provide technical solutions to address inequality and social exclusion. Since then, CommonLit's robust and ambitious strategy has enabled the EdTech organization to grow rapidly, offering a service that is needed and valued by learners and educators alike.
Discover more projects to foster education