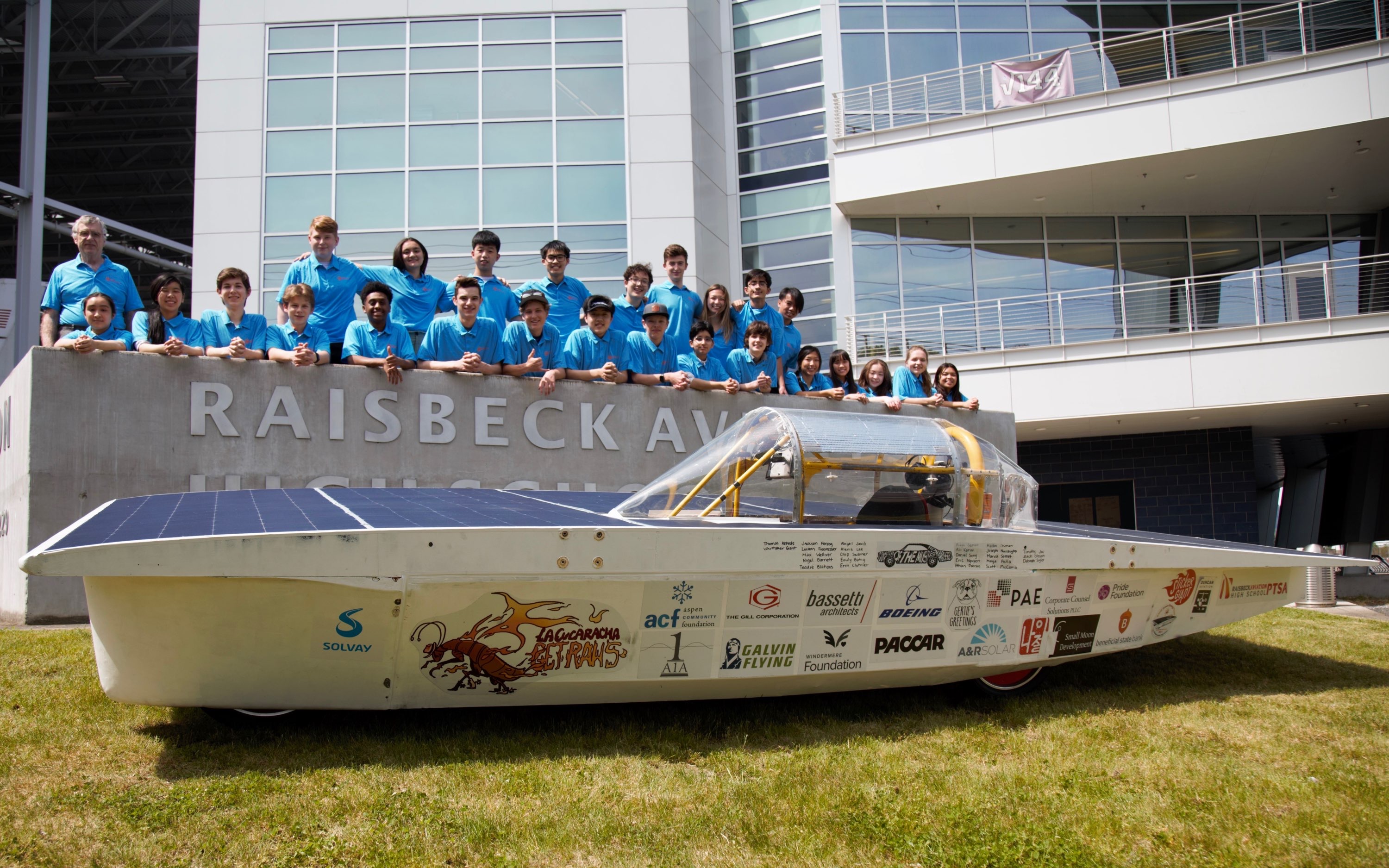 RAHS Green Energy Team
Solvay supported RAHS Green Energy Team in the Solar Car Challenge, a project-based STEM initiative for US high school students
Raisbeck Aviation High School (RAHS) is a nationally ranked public high school in the US, with a  science, technology, engineering and mathematics (STEM) curriculum focused on aviation and aerospace. The school's Green Energy Team is an extracurricular immersive experience, in which students use advanced materials and batteries to create a high-performing solar car to compete in a national-level high school race: the Solar Car Challenge. 
For the students involved, the Challenge is a unique opportunity to gain experience in many different areas, including technical, electrical, mechanical and computer skills, and knowledge of business and communication.
Solvay believes that education has a crucial role to play in reinventing progress. Our support for this project is therefore a natural step in our ongoing efforts to encourage STEM studies, which we see as the key to opening up doors to new and sustainable innovations and solutions.  
Solvay has a rich tradition of sharing knowledge with the brightest minds of the time, as well as bonding and connecting with future generations through educational initiatives to inspire the scientists of the future. Accompanying the RAHS Green Energy Team as they collaborate on this renewable energy engineering project is a continuation of this tradition, which is fully aligned with our Purpose.
3rd edition
Number of times RAHS has participated in the race
The Solar car challenge
The Solar Car Challenge Education Program provides hands-on workshops, virtual learning videos, educational materials and onsite visits for high schools across the country. The end product of each two-year education cycle is the Solar Car Challenge: a closed-track event at the world-famous Texas Motor Speedway, which gives students the opportunity to display and drive their solar cars.
The RAHS Green Energy Team competed in the 2019 and 2021 editions, winning the title on both occasions. Heading into the 2022 Solar Car Challenge, the team is making big upgrades to the current car, including a new suspension system, solar array and battery pack.
Solvay's business Silica and Composite Materials taking over 
We have continued to support the RAHS team in 2023 through our Silica and Composite Materials businesses. Silica provided the team with opportunities to find new sponsors, putting them in contact with Bridgestone to help improve their tires. Composite Materials supplied carbon fiber to help build the body panels and structure of the vehicle, giving the team technical guidance on composite lightweight material selection, lay-up, and processing, and recommending Solvay's carbon fiber prepreg, which has a low-temperature cure cycle suitable for use with the RAHS mold. Bob Brink Inc., one of our logistics providers, generously donated refrigerated delivery services for these temperature-sensitive materials.
"It was a pleasure to work with the mentors and student leaders at RAHS, and to see the investment these educational leaders are making in the lives of this incredible young team. The invaluable combination of theory and practice these students are experiencing will prepare them to be at the forefront of their fields, as well as skilled team leaders."
Duane Stirnemann, Key Account Manager, Composite Materials
The 2022 Solar car challenge
The team finished first in their category for the third year in a row and with new records to show for it. It was under the blazing sun, more than 43 degrees Celsius, and with perseverance that the team joined the speedway for these 4 days of races. After more than two years of work, training teams and studying car components, it was time for their car, 'Jimmy', to show what it was made of. 
"At Solvay, we are very proud of the victory of "Jimmy" and the RAHS Green Energy team. This committed group of students, who participate in challenges in the field of renewable energy, are full of motivation and courage. The Solar Car Challenge is a massive project involving a myriad of moving parts that all work together to make the complete product, but this also requires a well-oiled team to support it. This team of champions demonstrated resilience, stepping up in every way to meet this challenge and to even break the previous record," Sonsoles Llopis Garcia, Group Corporate Citizenship Manager.
A race with many twists and turns: tire changes due to extreme temperatures, dead batteries, holes in the bodywork, radio changes, dead horns, overheated batteries, suspension fractions, etc.
This year's car has been named "Jimmy" in honor of the late aeronautical engineer Dr. James D. Raisbeck. 
"We are very happy to name Solvay among our key partners. It's thanks to companies who believe in us that we can keep our educational project alive and ensure that our team gains hands-on experience innovating solutions to real-world environmental issues." Maya Peña - Fundraising and Outreach Team Leader