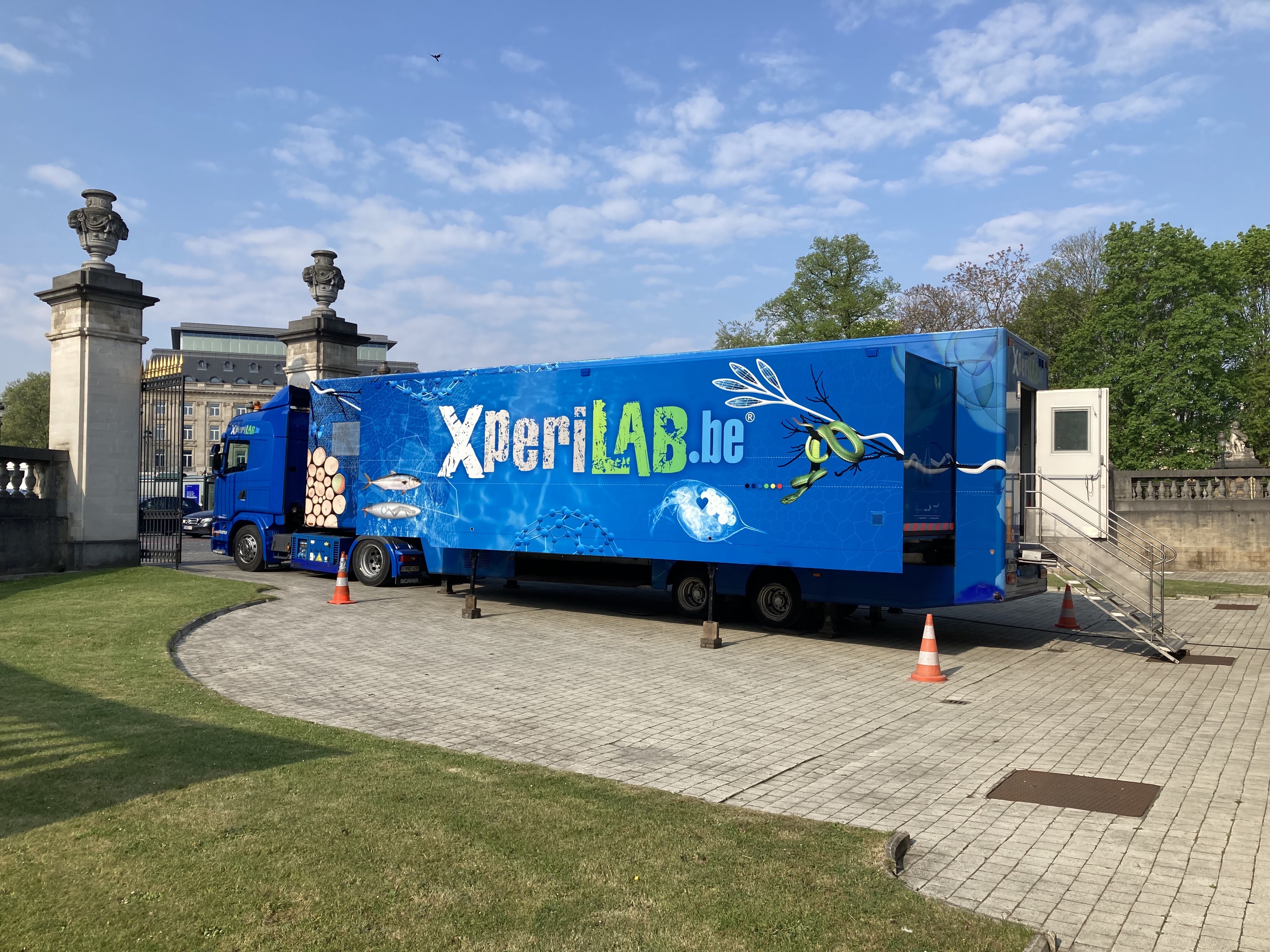 XperiLAB
All aboard the 'Science Truck'
The Foundation Enterprise Institute was set up by the Royal Institute of Natural Sciences in Belgium and Solvay to help raise awareness of science among young people and to provide teachers with tools they do not always have in the classroom. In 2010, the Foundation launched the XperiLab project, consisting of a 16-meter long, 32-ton truck that unfolds into a laboratory capable of accommodating a complete class of 10-14-year-old students. The truck is designed to travel around Belgium according to a precise schedule and gives students an opportunity to experience science in a positive way, encouraging them to consider scientific and technological careers as a serious option.
The XperiLab truck hosts a class of up to 27 students for 90 minutes. Upon their arrival, participants receive a white researchers' apron and have the opportunity to discover the three distinct laboratories in the truck, each offering experiments, activities, and tricks relating to nature. Examples of some of the activities presented by "Alex" the computer include tests using mini solar panels to determine whether the airplane or the calculator consumes more energy, making toothpaste, discovering the daphnia (a shrimp measuring between one to five millimeters) under the microscope and learning if fiberglass is cylindrical. 
The laboratory truck goes from village to village, from town to town, and from school to school, getting young people in Belgium involved in science. The approach is supported by the Ministers of Education of the three Belgian communities and the objective is to welcome three classes to the truck per day. A comprehensive educational file has been prepared by the Royal Institute of Natural Sciences for teachers accompanying the class and can be downloaded from the XperiLab website.
± 1000
pupils per month in 2022
Achievements over the past 10 years 
More than 220,000 students benefited from visiting the XperiLab. 

XperiLab is also requested at public events linked to science, like the festivals

I love Science

or

Science in the City

organized by the Royal Academy of Science. 

XperiLab responds to requests from Solvay sites located in countries such as France or the Netherlands during site anniversaries or open-door events aimed at employees. 

In line with

Solvay One Dignity

, our DE&I strategy, XperiLab is also used enthusiastically by schools teaching children with a disability and can be adapted accordingly.
Discover more projects to foster education