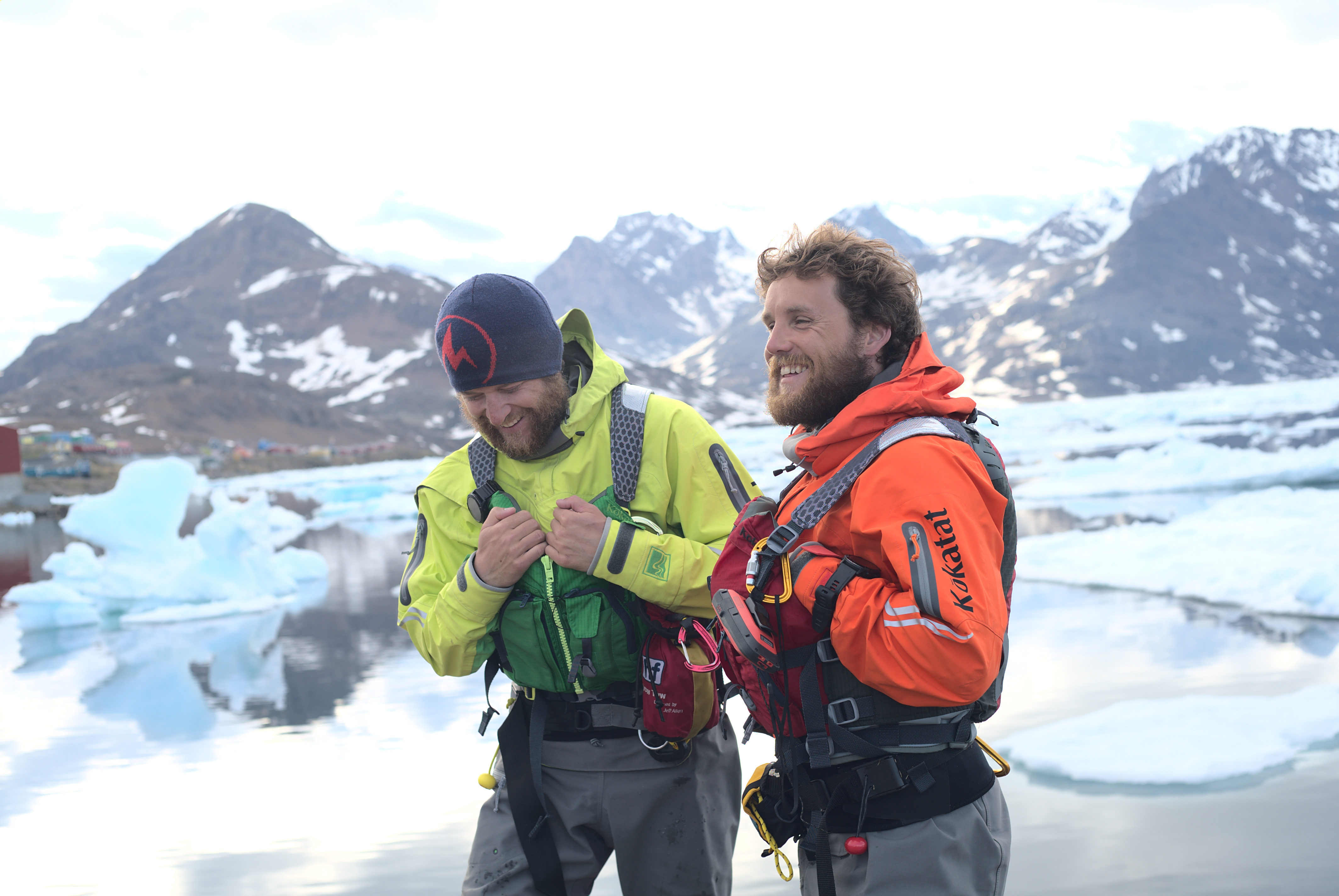 Nanok Expedition
Solvay joined forces with the Nanok Expedition
The Nanok Expedition is the extraordinary project of Gilles Denis and Nathan Goffart, two modern-day explorers.
From April 5 to October 1, 2022, the duo from Brussels completed an ice triathlon in Greenland, while also taking part in a scientific mission. Find out more about their three challenges: 
Ski crossing
Gilles and Nathan have now completed the first stage of their challenge: crossing the Arctic Circle ice sheet on skis. And while the crossing didn't quite go to plan, the two explorers are focusing on the many positives they can take from their expedition so far.
"At the beginning, we were surrounded by landscapes, we could see relief, mountains, etcetera, but as we progressed, some days you couldn't distinguish the ground from the sky because everything was completely white; you could only see white," says Nathan. "That's where the mind comes in. You escape, you think and you have to be creative, and imaginative. It's an inner journey that we rarely have the opportunity to make in our daily routines." 
With many daily tasks to complete, including documenting their expedition and gathering scientific data, and facing tough weather conditions, the duo found themselves falling behind schedule. Low on food supplies and energy, they were forced to abandon their crossing, having completed 80% of their planned journey. Though it was a tough decision to make, the two explorers believe it could prove crucial in enabling them to complete their adventure. 
"With hindsight, the crossing was a great success despite a small personal failure, with 450km completed out of the planned 580," says Gilles. "It was a very difficult decision to take, but it is perhaps also proof of maturity and a lesson in humility to accept (sporting) failure, to avoid putting oneself in too much danger." 
Scientific success!
While the crossing itself might not have gone to plan, the scientific part of the expedition could not have gone better. Gilles and Nathan returned from their journey across the ice cap with notebooks and a GNSS receiver filled with precious data and observations, as well as rare in situ samples that will be analyzed by the expedition's various partner centers and universities.
Sea kayak
The government of Greenland's new policies on sea regulations forced Gilles and Nathan to change the second stage of their triathlon challenge at the last minute. Undeterred, the adventurers revised their itinerary, exploring a 100km area around Tasiilaq in their sea kayaks instead of the 1,000km they were planning to cover on the southeast coast of Greenland.
During this first kayak expedition, they kept their promises to the scientific research centers they are working with, by collecting river water for their new scientific partner the Institute of Life and Earth at the Catholic University of Louvain (UCL) in Belgium.
In late august, the duo finished their kayak expedition by covering 280km through three fjords. These fjords were carefully selected with the help of researchers from Belgian universities UCL and ULB in order to precisely sample their waters and sediments.
Vertical climbing
With new sea regulations forcing a change in their itinerary, Gilles and Nathan had to move forward with the climbing stage of their expedition in the fjords region of Cape Farewell. The area has many big walls that measure 1,000m or more, and a lot of them have never been climbed before. 
The duo succeed in their ambition to open their own climbing route, located on a wall over 550m high on the emblematic mountain of the Tasermiut Fjord. They named the new route "Immaqa", which means "Inch Allah" in Kalaallisut (Greenlandic language), referring to the many difficulties they have faced and their determination to always move forward, no matter what the obstacles are.
As an experienced Alpine climber, our founder Ernest Solvay would have been keen to progress beyond and follow them on their climb! 
"It was crystal clear to me that we had to support such an adventure. Nanok is the embodiment of our purpose - we bond people, ideas and elements to reinvent progress - two young people in search of meaning who want to add an extra dimension to science and contribute to the preservation of the planet. The alliance between an extraordinary human challenge and a unique scientific expedition."
Sonsoles Llopis Garcia, Corporate Citizenship Manager
Strengthening scientific research and innovation through partnerships 
At Solvay, we have always been driven by our conviction that science holds the key to solving society's greatest challenges. We have remained true to our mission of supporting scientific research through partnerships and collaborations with universities. Through our philanthropic efforts, we encourage the development and improvement of scientific knowledge and invest in extraordinary projects that go beyond and pursue ideas that are outside the box.
In preparation for their expedition, Gilles and Nathan asked themselves two questions: "what is exploring today when there is no land left to discover but rather land to preserve?" and "how can our project contribute to the preservation of the planet?"
This led to their decision to join forces with scientists on climate and environmental research, turning their adventure into something more than a sporting challenge. 
Throughout their journey, they will collect environmental data for three Belgian research centers: 
Exploration AND Scientific Progress
with Nanok Adventurers Gilles Denis and Nathan Goffart
The Nanok explorers, for generations to come
Sioux production team filmed a documentary of Gilles and Nathan's extraordinary adventure in Greenland called "La Traversée". Solvay organized a grand premiere for the movie in Brussels, which included an on-stage interview of the two explorers by Solvay CEO Ilham Kadri, and an open Q&A session with the 400 people in the audience. The event helped us kick off the Group's 160th anniversary – 160 years of innovation, resilience, and progress: an enduring legacy to pass down to future generations.
Discover more projects to nurture innovation