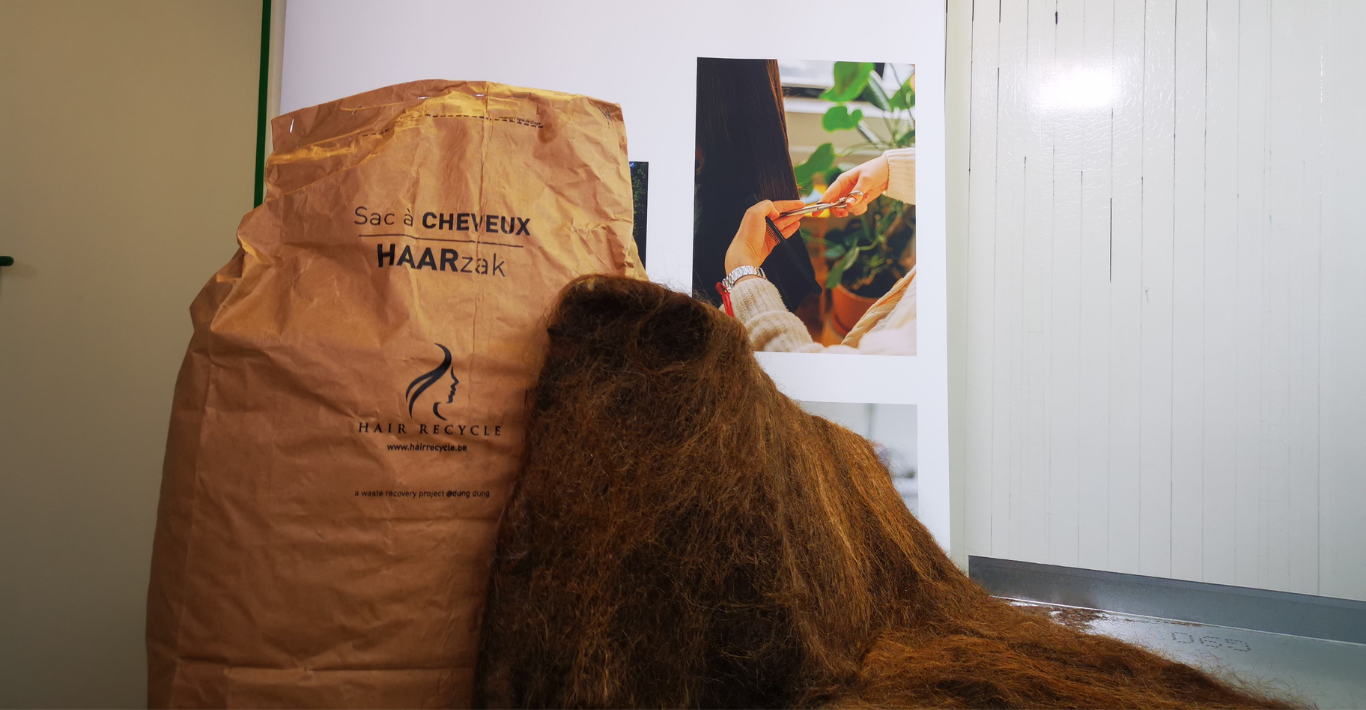 Hair Recycle
Supporting the development of a circular economy
As part of our Solvay One Planet sustainability roadmap, we're committed to accelerating our contribution to the development of a circular economy. One of the ways in which we can do this is by supporting innovative projects aimed at reducing waste and protecting the environment. Hair Recycle is one such project.
Launched in 2021 by father and son team Patrick and Quentin Janssen, Hair Recycle is a small non-profit organization that collects hair from a network of salons across the Benelux region and recycles it into products that can be used to absorb and remove pollutants from the environment. 
Patrick and Quentin came up with the idea for the business, which they run alongside their full-time jobs with the help of a small network of volunteers, during the Covid-19 pandemic. Their aim was to develop a business anchored in the circular economy and inspire others to take on similar projects. 
Motivated by the need to take action to combat climate change, they began researching opportunities to launch their own circular economy project and settled on collecting and recycling hair into locally-produced, eco-responsible, and recyclable absorbent products. The young business received almost immediate recognition, as one of the winners of the BeCircular Brussels environmental prize. 
700
hair salons subscribers
1kg
of hair can absorb 7 liters of hydrocarbons
The benefits of hair
Hair has three main benefits that make it an ideal material for Patrick and Quentin's project: it's infinitely recyclable, highly absorbent and ultra-resistant, with one hair capable of supporting up to ten million times its own weight. The protein keratin, which makes up 95% of hair, gives it elasticity, resistance and flexibility while ensuring it doesn't dissolve in water. And as hair is lipophilic, it absorbs fat, oil and hydrocarbons – 1kg of hair can absorb 7 liters of hydrocarbons. 
To make the most of these qualities, the father-son partnership has developed two products: mats for use on dry floors and booms for use in water. The first of these is a fully mature and recyclable product, currently used to absorb hydrocarbon and polymer pollution in water treatment plants, with plans to expand to other applications in the future. The second product is still under development but has significant potential. 
"We got the idea of using hair to create absorbent products from initiatives in the US, where it has previously been used to clean up oil spills. Hair Recycle developed from there, with our mats now used to absorb pollution in a number of water treatment plants and a project to develop booms made of hair that can be used to clean up rivers now under development. Once used, we recycle the mats as reinforcement for cement, ensuring that nothing goes to waste."
"As father and son, we know each other very well and we trust each other. We split our responsibilities according to our professional skills and strengths, and work together on everything else, with the valuable support of our volunteers. The combination of our different strengths and personalities, and our knowledge of each other, creates a great foundation for a strong and stable business."
Patrick and Quentin Janssen, Hair Recycle Co-Founders
A bright future ahead
Hair Recycle currently collects hair every day from around 700 salons across the Benelux region. This is transported to the Hair Recycle warehouse in Liège, where it is transformed into mats using a special weaving machine. Support from Solvay has helped them to advance the project, by buying a second machine to increase production and developing relay points across Benelux to facilitate the collection and delivery of the hair to the warehouse. 
Moving forward, this start-up intends to continue developing products and industrializing its processes. But while they aim to increase their customer base and grow the business, they're determined to do it without compromising on customer service, acknowledging that it's their customers that give them the energy to continue to innovate and go further.
More projects to protect the planet